UNAYO Business Accounts
Once you have a personal Pro account, you will be able to open a business account.

As soon as your application has been approved, you will have access to higher limits and will be able to apply to become a merchant and earn commission on your business account.
Some benefits of the UNAYO Business Accounts
Access to services
Locate merchants in your community. These people and businesses can assist you with transactions, such as cash in and cash outs.
Earn Extra Revenue
You can use your business account to apply to become a merchant, it's a great way to earn extra revenue and start building towards your future.
Free transactions
Make use of free transactions to send money to friends and family. Pay for goods and services using your UNAYO account and your personal QR code.
Make bulk payments
Pay suppliers in bulk and receive payments from customer.
Business Account Bundle
A business account can be applied for by customers who hold a Pro Account. The customer is required to provide details of their business, including their trading details.
Steps to open an UNAYO business account
Register your account on the UNAYO app
Complete the entire registration process for personal and business accounts online from anywhere in the world. Once you are done with the registration, select the "Open a Business Account" option.
Submit business documents
After choosing to open a Business Account, you will be prompted to provide the following business documents:

Business registration document

Proof of address

Proof of income

Details about your related parties

These requirements differ from region to region. View your country page for more information.
Get account access
​​​​​​​Once you have provided your business' details, you will have access to a business account with higher limits. You can also add employees or partners and manage their rights on your account.
Open a Business Account
Unayo is rapidly expanding its footprint to countries across the globe. We have started in Africa, and new countries are coming online all the time. Select your country to find out more.
Countries on Unayo Business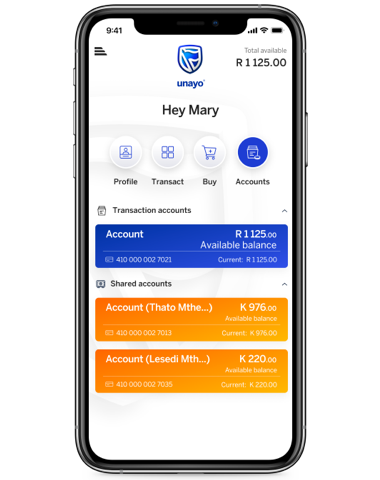 Get the Unayo app
Unayo is a global digital platform that brings you, as a valued customer, a wide range of capabilities to meet your day-to-day services and transactional needs.
You and your business are enabled through Unayo to transact securely and conveniently from your couch, desk, shop or wherever you are.
Let us help you on your journey - Download our App