Getting the UNAYO app
Download the Unayo app on your smartphone, or sign up with USSD, create your profile, and you're ready to go!
Download the Unayo App or use USSD
Download the Unayo app on your smartphone using the app store. If you can't download the app, you can still use Unayo on any phone with USSD functionality.
Choose a location
Select your country from the list. You can sign up for Unayo from anywhere in the world, whether you are a Citizen, Foreign National, Refugee or Asylum Seeker in a specific country.
Register your account
Complete the entire registration process for personal and business accounts online, without having to ever visiting a branch!
Upgrade your account
You will be able to sign up for a personal account. After that, open a business account or apply to become a merchant.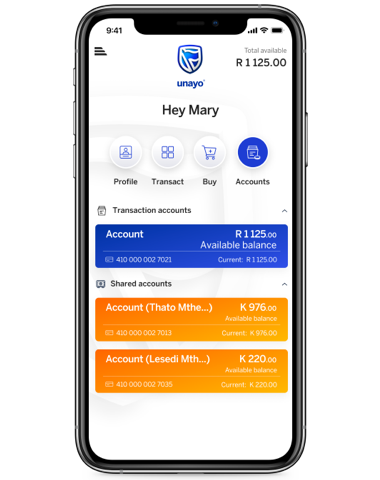 Get the Unayo app
Unayo is a global digital platform that brings you, as a valued customer, a wide range of capabilities to meet your day-to-day services and transactional needs.
You and your business are enabled through Unayo to transact securely and conveniently from your couch, desk, shop or wherever you are.
Let us help you on your journey - Download our App