Who we are
As a leading Africa-focused financial services organisation, Africa is our home, and we drive her growth.
Unayo (You have it) is Standard Bank's digital platform business, intent on addressing the unsolved needs of communities. UNAYO takes financial inclusion to everyone on the African continent, and customers using the platform can be Citizens, Foreign Nationals, Refugees or Asylum Seekers living in the country.
Unayo offers a boundless new value proposition focusing on digital innovation, accessibility and solves for the last mile in remote villages in Africa, therefore making Unayo the next Global financial movement.
Open a Personal Account
Unayo is rapidly expanding its footprint to countries across the globe. We have started in Africa, and new countries are coming online all the time. Select your country to open an account
Select Country - Open a Personal Account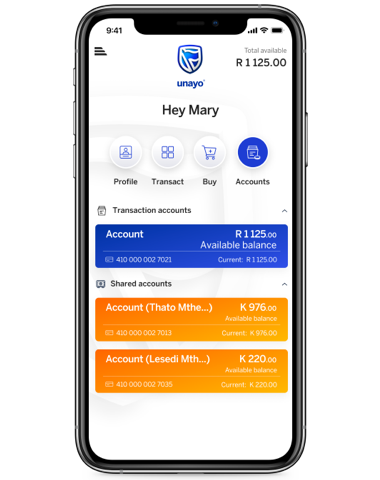 Get the Unayo app
Unayo is a global digital platform that brings you, as a valued customer, a wide range of capabilities to meet your day-to-day services and transactional needs.
You and your business are enabled through Unayo to transact securely and conveniently from your couch, desk, shop or wherever you are.
Let us help you on your journey - Download our App