Lesotho Personal Accounts
UNAYO offers two personal accounts: Lite and Pro. While you will have access to the same services, a Lite account will have lower limits.

You can upgrade your account using the smart app or Assisted Services mode on another customer's device.

A Pro account requires more documents, but will give you access to higher limits, allow you to apply to become a merchant or open a business account.
Interested in Opening a Business Account?
If you have your own business, you can open an Unayo business account. This will give you access to higher account limits and allow you to manage employees' rights and access to your account.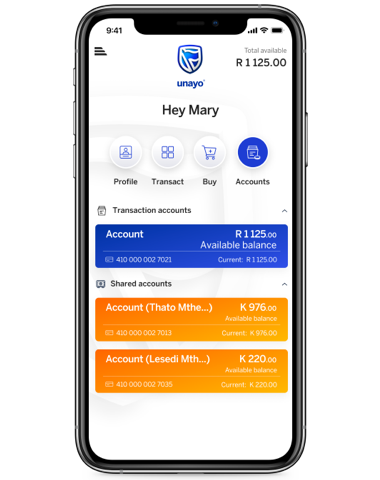 Get the Unayo app
Unayo is a global digital platform that brings you, as a valued customer, a wide range of capabilities to meet your day-to-day services and transactional needs.
You and your business are enabled through Unayo to transact securely and conveniently from your couch, desk, shop or wherever you are.
Let us help you on your journey - Download our App